Extra Curricular Activities
February 6, 2023
2023-03-06 8:02
Extra Curricular Activities
Extra Curricular Activites
ABOUT EXTRA AND CO-CURRICULAR CELL
Lal Bahadur Shastri Girls College College of Management brings together cultures and learning from all around the world, by providing opportunities through co-curricular and extracurricular activities by conducting events like Ritkriti, Fresher's, Farewell, video making, photography, website development, debate, management games, brandwars, art and craft making, lecture meets, industrial visit, etc so that students get success at both professional and personal front. Academic attainment is a key element of college life and it is complemented by a broad and enriching co-curriculum to provide a rounded education.
The institute offers the options of the following clubs to the students to groom them in areas beyond academics. These clubs not only provide a much required break from regular teaching, but also offer students valuable learnings for their career & life.
Cultural activities are of paramount importance; the college encourages all extra-curricular activities that are both in line with the educational objectives of the institution and meet the needs of the students. The club organizes a variety of activities, such as zumba, freestyle dancing, contemporary dance, nukkad natak, singing, rangoli, mushaira, etc. The vision of the club is to provide an enriching and social environment to promote the advancement of multicultural learning. The club organises annual cultural fest – 'Ritkriti' which is a celebration of Indian culture & tradition expressed through singing, dancing, ramp walk & food stalls.
Digital Club is a unique initiative through which the Institute aims to form a group of interested students which would be dedicated to the field of Digital Marketing. It aims at delivering Content Writing & Digital Marketing knowledge across the students. Owing to the rapid increase in the number of online audience worldwide, digital marketing has become a larger part of marketing plans. Today, building a career in digital marketing has transformed into a viable and invaluable career option for students who are innovative, creative and enthusiastic. The digital club focuses on the following concepts which will help students to gain knowledge on using these tools for marketing, promotional and PR activities-
1. Social media marketing
2. Email marketing
3. Mobile marketing
4. Content marketing
5. SEM, SEO, PPC
The digital club provides a platform where students can assimilate digital marketing concepts and create a pool of employable candidates to meet industry requirements. Students gain exposure to the latest industry practices. Guest lectures by professionals from the industry are also undertaken. The digital club arranges workshops, seminars, events for students on topics like blog writing, how to build and expand professional network by using LinkedIn, how to run successful social campaigns, etc.
Sports Club is an opportunity for students to socialize and have fun together based on their interests. Students get an opportunity to play games, and spend time discussing gaming strategies. The Sport Club has been formed, developed, governed, and administered by the student working in conjunction with the faculty and staff members. All programs are based on student interest and designed to enhance the experience by creating an environment where students can unite in diverse groups to achieve common goals and objectives while encouraging healthy lifestyles. The institute offers a range of sports, programs, and events for students across the campuses. The most popular sports activities are: fitness, badminton running, athletics, cycling, cricket, football, yoga, and chess. No matter what your fitness levels, there is a sport activity out there for you.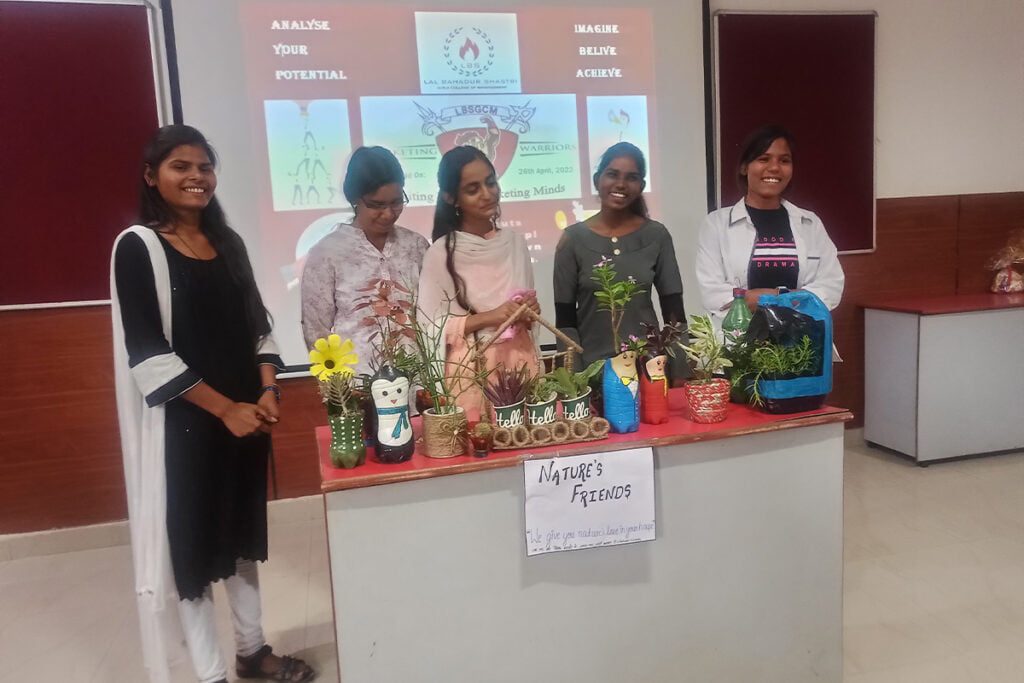 Entrepreneurship Development Cell
With the goal of nurturing innovation and entrepreneurship and encouraging youth in Uttar Pradesh to become "Job creators" instead of "Job seekers," the State of Uttar Pradesh is taking laud worthy efforts. LBSGOI aims to makes its contribution in this humongous initiative of the State Government & with this perspective it has created an Entrepreneurship Development Cell. The ED Cell of LBSGOI was formally inaugurated on September 27, 2019.
The Entrepreneurship Development Cell of LBSGOI endeavors to:
Ignite creative thinking among students.
Foster & nurture the entrepreneurial spirit in students and passionate individuals.
Provide a platform to people who have the zeal to pursue entrepreneurship to convert their ideas into businesses.
Create the requisite support structure that one needs in their quest for the unknown and unexplored zones of entrepreneurship.
Act as a medium for providing relevant information to budding entrepreneurs.
Function as a facilitator so that creative ideas can be transformed into successful business ventures.
Provide mentorship to students through successful entrepreneurs & professionals.
To achieve the above objectives, the ED Cell of LBSGOI has on board highly acclaimed & reputed person in the area of Entrepreneurship like:
Founder – Pulizia Industries Private Limited
Founder, TankUp Petro Venture LLP
Chairman and Managing Director, Chopra Retec Rubber Products Limited
Founder & CEO, Imbibe Consultancy Services Pvt. Ltd.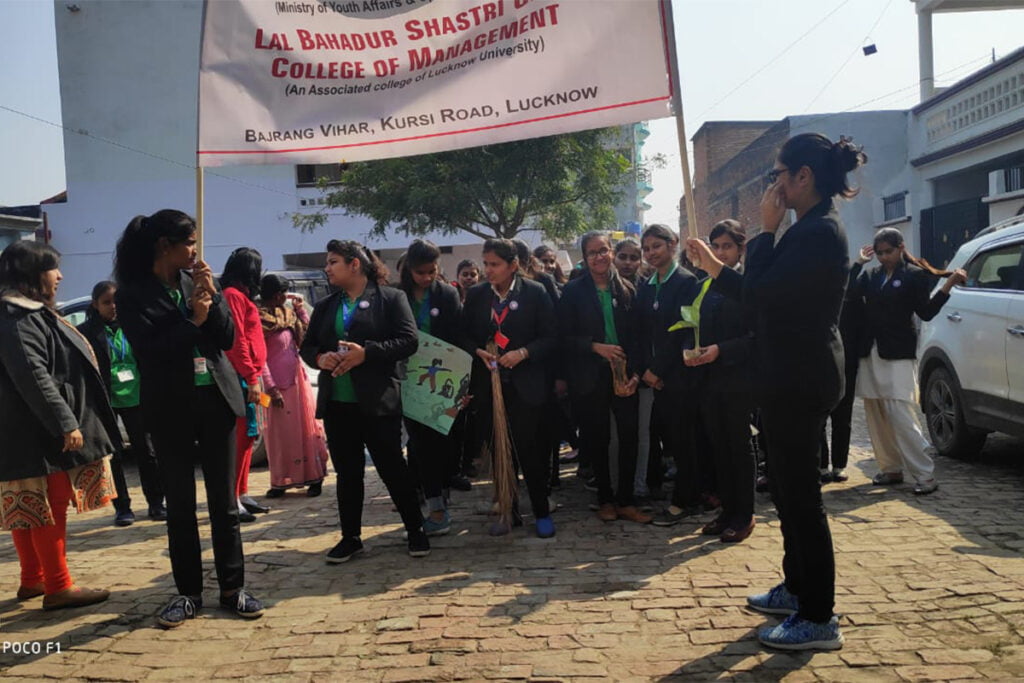 A campus-community connection is created through the National Service Scheme (NSS), a voluntary initiative for young people in colleges, universities, and +2 level schools. This initiative is run by the Ministry of Youth Affairs & Sports and is well-known as NSS. While they are pursuing their studies at educational institutions and developing their personalities and inner feelings toward community welfare, the programme primarily orients the students toward community service. We as a reputed college follow the guidelines of NSS. The NSS fosters both individual and group growth in the learner. Students can gain self-assurance, leadership abilities, and knowledge of individuals from varied backgrounds by volunteering for various NSS events. While striving to raise people's living standards, students also learn about many life-essential skills, achieving NSS's goal of helping everyone in need. Active NSS volunteers gain exposure and experience that help them develop into effective social leaders and administrators.
Aims & Objectives of NSS followed by LBSGCM as mentioned in nss.gov.in are:
1. To understand the community in which they work;
2. To understand themselves concerning their community;
3. To identify the needs and problems of the community and involve them in problem-solving.
4. To develop among themselves a sense of social and civic responsibility;
5. To utilise their knowledge in finding practical solutions to individual and community problems;
6. To develop competence required for group-living and sharing of responsibilities;
7. To gain skills in mobilising community participation;
8. To acquire leadership qualities and a democratic attitude;
9. To develop the capacity to meet emergencies and natural disasters.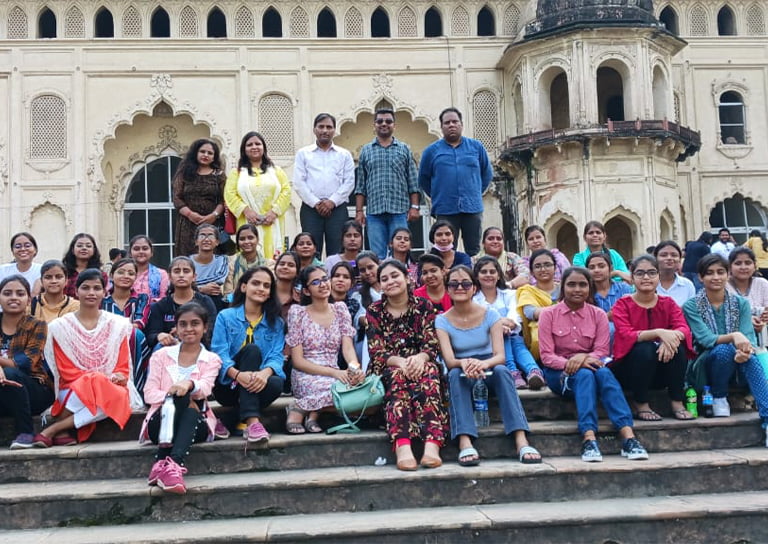 Tours and Picnic are favourites for Students. Moreover, Nothing rejuvenates students more than playing exciting games with their best mates. Counting down the same, Our institute organises various tours to Bangalore, Ooty, Jaipur, Nainital, Shimla, Kufri Chandigarh, Pune, etc., for the students.
We conducted these tours to encourage team spirit and unity among students. Additionally, Travelling together releases exam stress and creates never forgetting memories with your batch mates.
On the other hand, Picnics on water & Adventure parks within the city aims to lighten academic pressure on the student. Most importantly, conducted with proper execution, picnics of these kinds are necessary for the holistic development of our students.
Our faculties encourage conducting exciting games to develop teamwork and leadership quality among fellows.