THE TOP-EIGHT BUILDING BLOCKS OF LBS GROUP OF INSTITUTIONS
December 22, 2022
2022-12-22 8:09
THE TOP-EIGHT BUILDING BLOCKS OF LBS GROUP OF INSTITUTIONS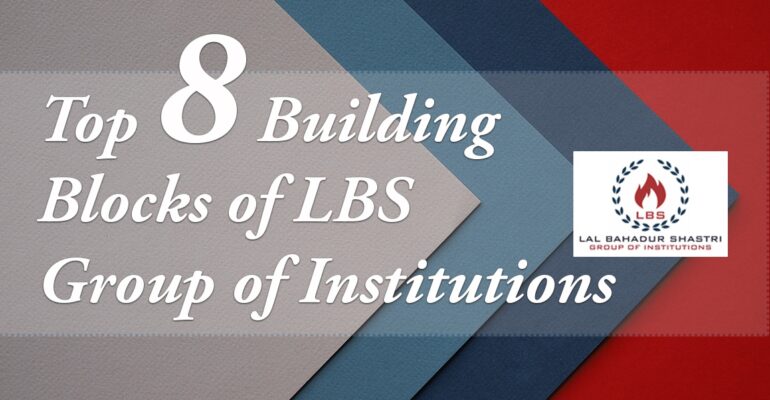 THE TOP-EIGHT BUILDING BLOCKS OF LBS GROUP OF INSTITUTIONS
Lal Bahadur Shastri (LBS) Group of Institutions is one of the oldest institutions in Northern India for imparting professional education, with over 22,000 alumni network.Located on two separate campuses around Lucknow, LBS Group has carved a niche for itself and has successfully groomed and prepared thousands of management students for professional education. LBS Group of Institutions values learning through innovation and experiential learning with over 65 Management Development Programs to choose from.
LBS Group of institutions is committed to giving back to its students and leads them to the path of success. It prepares the students to face the challenges of life and come out as conquerors. Here're the top-eight building blocks of LBS Group of Institutions, which makes it stand apart from other management colleges/institutions:
#1Continuing the Legacy in Professional Education
LBS Group of Institutions has 36 years of legacy in imparting professional education and inspiring the students to be better leaders, better managers, better employees and overall a better human being. Founded by Late Prof. (Dr.) Sunil Kumar in 1982, the group made continuous strides under his dynamic &visionary leadership.
#2 Unmatched Student Experiences
In the challenging era of dropouts, where students are taking longer to accomplish educational goals, LBS Group of Institutions stands tall on the path of success and enables its students to face challenges and come out as conquerors. With a fine blend of academics and co-curricular activities, LBS Group of Institutions has carved a niche for itself and has successfully groomed several batches of MBA, MCA, BBA, BCA and B.Com. LBS Group also offers full pre-placement and placement guidance and support.
#3 Fosters Student Centric Culture
LBS Group of institutions encourages on-campus involvement through seminars, training programs, guest lectures, industrial visits, role plays, management games, extracurricular activities like sports, debates, singing and dancing to enrich the student experience and gain interpersonal skills to prepare for future.

#4 Bringing In The Right People
The reason why LBS Group of Institutions emphasizes on bringing in the right people is because a committed and expert faculty is the only means to get where we want our young minds to be. The group has a rich and diverse base of technical and management experts highly reputed in their respective fields. Each of the faculty is devoted to brilliant teaching methodology, cutting edge research and faithful service to the campus and the community.
#5 Offering 65+ Management Development Programs (MDPs)
The institute has been extensively organizing several MDPs since 1984, to meet the changing requirements of business and industry. Myriads of executives attend these programs from public and private sector organizations. Find here the list of Management Development Programs at LBSIMDS.
#6 Making Education Affordable and Accessible
LBS Group of Institutions offers individual scholarships to higher ranked students. LBS Group of institutions demonstrates an appreciation for a scholarly environment and has awarded more than 1000 scholarships to its students.
#7 Flipped Classes
LBS Group of Institutions is one of the few institutions across the globe to have introduced the concept of flipped classes. These classes help students to address complex management topics through digital discussion available to them at their leisure.
#8 Strong Placement Record
LBS Group of Institutions has a well organized Training and Placement Cell, which keeps the students informed about the potential job-opportunities and helps them in making wise and well-judged decisions for their future career. The institute has an exemplary placement record with more than 5000 students placed in MNCs in the past ten years.
Schedule a visit with us, and you will have the opportunity to speak personally with our admissions staff about numerous opportunities available to you as a student at LBS Group of Institutions.
Author
Smriti Khanna
Blogger and Freelance Writer
(Smriti is a freelance writer, blogger, video script writer and an author of 500+ blog posts, human stories and articles, who enjoys enlightening others about lesser known facts.)